The ALUMA architek frame is available in two versions, The Agency and The Fine Art.
Custom Fine Art mats can be cut and polished to your exact media's dimensions.
The Agency version has a single layer of acrylic, which presses the desired media being framed directly against the aluminum base. This allows for quick and easy framing and reframing of various sizes of media in the same architek framing system.
The Standard Fine Art version comes with a precut clear acrylic mat which keeps the top layer of acrylic from touching the media being framed and also adds depth to the look of the framed media. A clear sheet of Mylar backing is provided with all fine art frames for archival applications.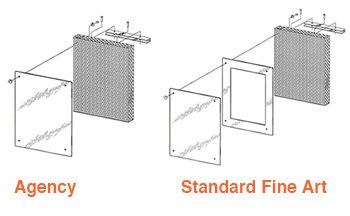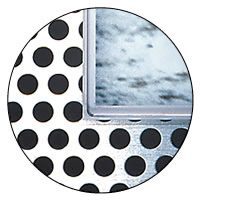 Mat Details
Fine Art transparent acrylic mat can be customized to fit any size media being framed. Beautifully hand polished acrylic tops and mats make these frames really stand out and shine. Every detail speaks of clean functional contemporary design!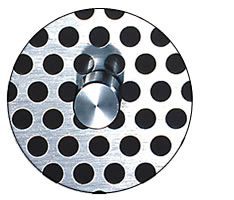 Cap Details
3/8″ by 9/16″ staggered perforations with architectural caps. All frames are made of high quality .063 brushed aluminum and are available in 9 different standard sizes. Custom anodizing and powder coating colors are available for large volume projects.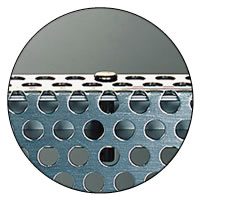 Hanging Details
The Architectural C-Rail bracket and Clevis pins allow for easy hanging of both vertical and horizontal images. For high traffic commercial applications Hitch pins may be used for frame security so that they may not be removed without tools. The architek frame has an overall depth of 1″ on all versions.
Modern Art Frames, Multi-Panel Art Systems, Architectural Panel Kits, Modular Workspace Solutions
Use our patented architek modern picture frame system as a stand-alone modern picture frame or combine multiple modern picture frames to create unique multi-panel systems and/or modern architectural walls. These unique contemporary picture frames and architectural products are constructed of high-grade perforated aluminum and present a versatile way of framing art, pictures and flat panel TV's. Aluma designs offers a turnkey service in that we can design, print, build, frame, and ship our modern image display products directly to you or your clients with simple easy to understand installation instructions.